WHAT'S HOPPENING at Home Sweet Homebrew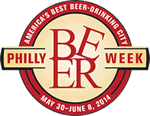 Philly Beer Week Is Here!
Home Sweet Homebrew is actively involved with this great annual beer activity! First of all check out our money-saving Beer Week Specials.

Then join us at these Home Sweet Homebrew Philly Beer Week activities:

Mon, June 2: 7th Annual Extreme Homebrew Challenge with Home Sweet Homebrew and Dogfish Head
Nancy and George, along with Sam Calgione, president and founder of Dogfish Head, will be at Jose Pistola's (263 S 15th St) for this homebrew challenge. Tickets are $25 in advance, $30 on June 2, and can be purchased with cash at Home Sweet Homebrew or at Jose Pistola's.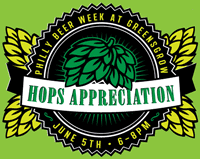 Thurs June 5: Hops Appreciation Workshop at Greensgrow
Learn about growing hops and how to turn your hops into your own beer from Home Sweet Homebrew gurus, Nancy and George. Monk's Cafe will provide delectable finger foods, and take away some hop shoot recipes from Monk's beer expert, Tom Peters. Located at Greensgrow Farms (2501 E Cumberland, Philly) from 6 - 8 pm. Get tickets and directions.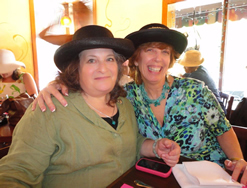 Sat, June 7: Ladies' Beer Tea at the Belgian Cafe
The Ladies Beer Tea is like a High Tea, but with Beer, and just ladies. Nancy Rigberg again hosts this event. The Belgian Cafe (601 N 21st St, Philly) will serve the traditional high tea courses of Savories, Tea Sandwiches, and Sweets, with each course paired with a different craft beer (with refills!) from 2:30 - 4 pm. At least four different beers, high tea food courses, and good conversation.

Tickets are $27; contact the Belgian Cafe (215.235.3500) for reservations. Hats optional but encouraged! (Shown above in their Ladies Beer Tea hats are Nancy Rigberg and Carolyn Smagalski in 2013.)
Philly2Night Says "Give the Gift of Beer and Cheer!" from Home Sweet Homebrew!
They liked HSH's total brewing package (George's book, equipment and ingredients for $150) and said "For anyone that's always wanted to try their hand at Brewing or Wine Making, HSH is the perfect place to start!" Read the full Philly2Night article "Give the Gift of Beer and Cheer!".
George on WHYY Radio: Keeping the craft beer flowing in Philadelphia
Listen to George on Philadelphia's WHYY radio station in an interview with NewsWorks Tonight's host, Dave Heller. Come visit Home Sweet Homebrew to learn more about brewing and join the fun.
George and Nancy in the Philadelphia Inquirer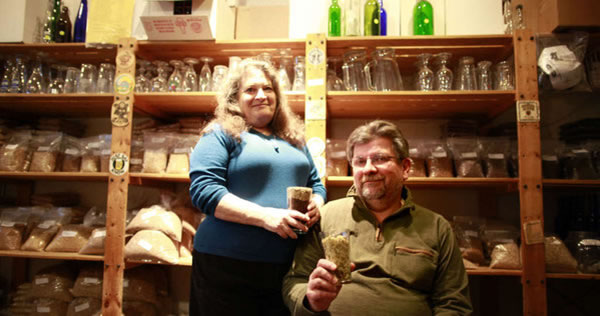 George Hummel and Nancy Rigberg are again making headlines for their 25th anniversary of Home Sweet Homebrew. The Feb 16, 2012 article is entitled "For 25 years, Home Sweet Homebrew has dispensed supplies - and know-how". You can read about their relationships with some of the Philadelphia area's professional brewers.
"To big beer names like Tom Kehoe, founder of Yards, William Reed of Standard Tap, Sam Calagione of Dogfish Head, Peters of Monk's, and the guys from Iron Hill and Victory, Home Sweet Homebrew was a priceless resource."

"The first 10 batches of Dogfish beer were brewed from ingredients I bought at Home Sweet Homebrew," says Dogfish founder Calagione.
Home Sweet Homebrew is in The Temple News Online: Basement brews.
"Home Sweet Homebrew serves as a Center City homebrewing mecca, with the supplies needed for every step of the process". Read about some local homebrewers.
George and Nancy on KYW News Radio
In December 2011, George Hummel and Nancy Rigberg were interviewed on KYW News Radio on "What's Cooking on 1060: Gifts for Foodies, Latke Contest, Homebrew Beer". Hear the entire interview: go to the What's Cooking on 1060: Gifts For Foodies, Latke Contest, Homebrew Beer page on philadelphia.cbslocal.com. Find George and Nancy's interview photo and below that is a podcast link to Hadas Kuznits' full interview.
George and Nancy Around Town
George Hummel spoke at the Central Library of Philadelphia. He talked about his "The Complete Homebrew Beer Book", and Rich Wagner spoke about his "Philadelphia Beer" book.
George and Nancy were judges in Philadelphia Inquirer's Brew-vitational 2012.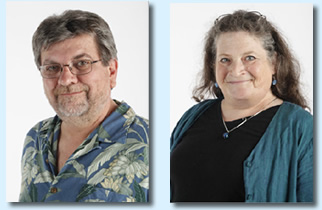 The third annual beer event explored 48 beers from 27 breweries. George Hummel and Nancy Rigberg were 2 of the 8 judges. From the "Food" section of the May 31, 2012 paper, learn more about the contest, Philadelphia's brewing history, meet the judges, and of course, check out the Philadelphia area's beer winners! (Photo credit to David M Warren / Staff Photographer)
2012's Philly Beer Week's Bathtub Beer Fundraising Fest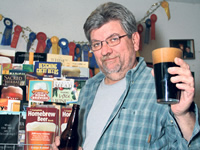 At the National Constitution Center (NCC), George Hummel, Nancy Rigberg, other craft brewers, and the NCC's exhibition curator Daniel Okrent got together for a Prohibition-era event. Learn more from a metro.us article, and the NCC site.
(Photo credit to Paige Ozaroski/Metro)
What's Coming Up?
If you check out Home Sweet Homebrew's site periodically, you'll learn what's hoppening at Home Sweet Homebrew and the Philadelphia beer brewing and wine scene.