WHAT'S HOPPENING at Home Sweet Homebrew
Home Sweet Homebrew is a Sponsor of the First Bierfest "Home Sweet Homebrau" Taste-Off! Saturday, February 21, 2015 at the German Society of PA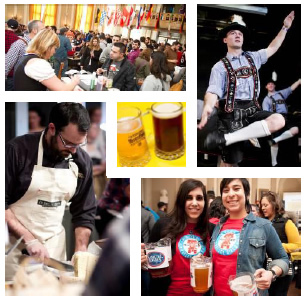 Eye-Popping Grand Prize:
Free Will Brewing Company will Team Up with the Winning Homebrewer to Craft a Brewery-Scale batch of their Winning Beer to be Launched at Bierfest 2016.
Brochure and Registration Forms

Since 2012, Philadelphia beer lovers have celebrated Pennsylvania's German brewing heritage at BIERFEST, an event hosted by the German Society of Pennsylvania and the ferocious female athletes of flat track roller derby, the Philly Roller Girls. Founded by Philly's favorite drinks author Marnie Old and benefitting the Brewers of Pennsylvania, Bierfest is designed to showcase this state's leadership in brewing (and drinking) German-style beers, like lagers and kölsches, weizens and bocks.

Bierfest is proud to announce the launch of the 'Home Sweet Homebrau Taste-Off', a German-style brewing competition that invites the area's home-brewers to get in on the Deutchalicious action.

Home Sweet Homebrau Taste-Off Basics:
Entries must be made in one of the specified German styles.
Registration is open now; Deadline is January 30.
Entries accepted from Jan 19 through 30 at Home Sweet Homebrew.
Finalists will get 2 VIP passes, will bring a minimum of 1 case or or half Corney keg and pour their beer at Bierfest so that the "People's Choice" winner can be determined.
Here is the brochure and registration paperwork where you can learn much more about the competition format, schedule, prizes, all the other activities of Bierfest 2015, such as a star-studded brewers' discussion panel on The German Connection: PA's Lager-Loving Terroir, enjoy German food, polka music, traditional Schuhplattler folk dancing, a beer station treasure hunt, jaw-dropping Berlin-style BEERlesque performances (PG-13 / adults only), many German imported products, family-friendly 'kinder care', 'beer-less' tickets for kids and designated drivers and much more.

You can also visit the sponsors: Free Will Brewing Co, The German Society of Pennsylvania, Philly Roller Girls, and OF COURSE Home Sweet Homebrew.
On Location at Dogfish Head in Rehoboth...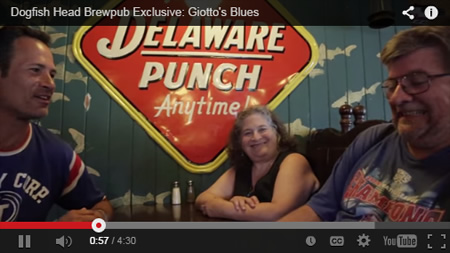 Got a 4 1/2 minutes?

Check out a fun conversation among George Hummel, Nancy Rigberg, and Dogfish Head's Sam Calagione (founder and President) at Dogfish Head's Rehoboth location in this video.

Giotto's Blues is now on tap there -- until it's gone!
Philly2Night Says "Give the Gift of Beer and Cheer!" from Home Sweet Homebrew!
They liked HSH's total brewing package (George's book, equipment and ingredients for $150) and said "For anyone that's always wanted to try their hand at Brewing or Wine Making, HSH is the perfect place to start!" Read the full Philly2Night article "Give the Gift of Beer and Cheer!".
George on WHYY Radio: Keeping the craft beer flowing in Philadelphia
Listen to George on Philadelphia's WHYY radio station in an interview with NewsWorks Tonight's host, Dave Heller. Come visit Home Sweet Homebrew to learn more about brewing and join the fun.
George and Nancy in the Philadelphia Inquirer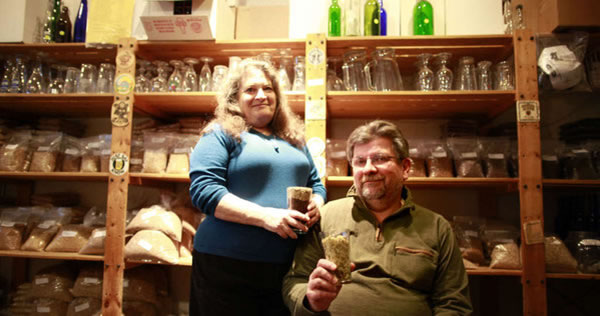 George Hummel and Nancy Rigberg are again making headlines for their 25th anniversary of Home Sweet Homebrew. The Feb 16, 2012 article is entitled "For 25 years, Home Sweet Homebrew has dispensed supplies - and know-how". You can read about their relationships with some of the Philadelphia area's professional brewers.
"To big beer names like Tom Kehoe, founder of Yards, William Reed of Standard Tap, Sam Calagione of Dogfish Head, Peters of Monk's, and the guys from Iron Hill and Victory, Home Sweet Homebrew was a priceless resource."

"The first 10 batches of Dogfish beer were brewed from ingredients I bought at Home Sweet Homebrew," says Dogfish founder Calagione.
Home Sweet Homebrew is in The Temple News Online: Basement brews.
"Home Sweet Homebrew serves as a Center City homebrewing mecca, with the supplies needed for every step of the process". Read about some local homebrewers.
George and Nancy on KYW News Radio
In December 2011, George Hummel and Nancy Rigberg were interviewed on KYW News Radio on "What's Cooking on 1060: Gifts for Foodies, Latke Contest, Homebrew Beer". Hear the entire interview: go to the What's Cooking on 1060: Gifts For Foodies, Latke Contest, Homebrew Beer page on philadelphia.cbslocal.com. Find George and Nancy's interview photo and below that is a podcast link to Hadas Kuznits' full interview.
George and Nancy Around Town
George Hummel spoke at the Central Library of Philadelphia. He talked about his "The Complete Homebrew Beer Book", and Rich Wagner spoke about his "Philadelphia Beer" book.
George and Nancy were judges in Philadelphia Inquirer's Brew-vitational 2012.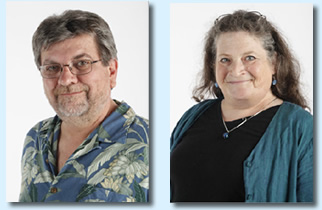 The third annual beer event explored 48 beers from 27 breweries. George Hummel and Nancy Rigberg were 2 of the 8 judges. From the "Food" section of the May 31, 2012 paper, learn more about the contest, Philadelphia's brewing history, meet the judges, and of course, check out the Philadelphia area's beer winners! (Photo credit to David M Warren / Staff Photographer)
2012's Philly Beer Week's Bathtub Beer Fundraising Fest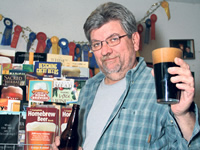 At the National Constitution Center (NCC), George Hummel, Nancy Rigberg, other craft brewers, and the NCC's exhibition curator Daniel Okrent got together for a Prohibition-era event. Learn more from a metro.us article, and the NCC site.
(Photo credit to Paige Ozaroski/Metro)
What's Coming Up?
If you check out Home Sweet Homebrew's site periodically, you'll learn what's hoppening at Home Sweet Homebrew and the Philadelphia beer brewing and wine scene.