WHAT'S HOPPENING at Home Sweet Homebrew
Enjoy "Giotto's Blues," a George Hummel and Dogfish Head Brew, Sept 23 at Grey Lodge Pub (6 - 9 pm)
A Donation for Parkinson's Research will get you Liquid Poetry for a Poet, Paul Coff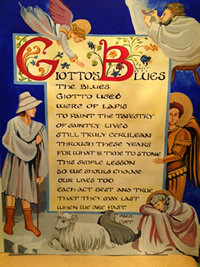 In honor of his late friend Paul Coff, Home Sweet Homebrew's George Hummel brewed Giotto's Blues at Dogfish Head's Rehoboth Brewpub. Giotto's Blues is named for one of Paul's poems.

Paul was a Grey Lodge regular, which is why some of this beer is getting tapped at the Grey Lodge Pub. Some of you who have been around a while may recall Paul's poem "Requiem for a Heavyweight", which was in honor of Herb Brown, another late Grey Lodge regular.

What's In Giotto's Blues?
With 5 types of malt, maple syrup, anise, licorice root, sweet orange, grains of paradise, 2 types of hops, and a Belgian style yeast, Giotto's Blues seems like it will be a pretty crazy beer. But that's probably why George chose Dogfish Head to make it with him. A donation to Parkinson's research will get you some of this beer on the 23rd.

Dogfish Head Prizes
Dogfish Head will have prizes for the top three haikus written live during the event and inspired by drinking the beer that is a tribute to the poet of Grey Lodge himself.

We are trying to have several other George Hummel collaboration beers on tap too.

Lots of Paul's friends will be on hand as well as George and Nancy. Please join us to celebrate Paul, to raise some money for Parkinson's research, and to wish George a Happy 60th Birthday!
Here's a link to the Grey Lodge site for contact info for this 9/23 event.

On Location at Rehoboth...
Got a couple minutes? Check out a fun conversation among George, Nancy and Dogfish Head's Sam Calagione (founder and President) at Dogfish Head's Rehoboth location in this video. Giotto's Blues is now on tap there -- until it's gone!


Philly2Night Says "Give the Gift of Beer and Cheer!" from Home Sweet Homebrew!
They liked HSH's total brewing package (George's book, equipment and ingredients for $150) and said "For anyone that's always wanted to try their hand at Brewing or Wine Making, HSH is the perfect place to start!" Read the full Philly2Night article "Give the Gift of Beer and Cheer!".
George on WHYY Radio: Keeping the craft beer flowing in Philadelphia
Listen to George on Philadelphia's WHYY radio station in an interview with NewsWorks Tonight's host, Dave Heller. Come visit Home Sweet Homebrew to learn more about brewing and join the fun.
George and Nancy in the Philadelphia Inquirer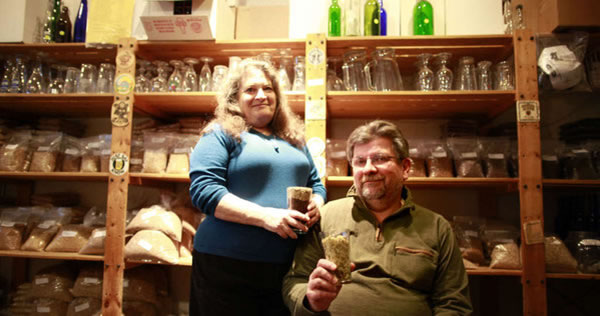 George Hummel and Nancy Rigberg are again making headlines for their 25th anniversary of Home Sweet Homebrew. The Feb 16, 2012 article is entitled "For 25 years, Home Sweet Homebrew has dispensed supplies - and know-how". You can read about their relationships with some of the Philadelphia area's professional brewers.
"To big beer names like Tom Kehoe, founder of Yards, William Reed of Standard Tap, Sam Calagione of Dogfish Head, Peters of Monk's, and the guys from Iron Hill and Victory, Home Sweet Homebrew was a priceless resource."

"The first 10 batches of Dogfish beer were brewed from ingredients I bought at Home Sweet Homebrew," says Dogfish founder Calagione.
Home Sweet Homebrew is in The Temple News Online: Basement brews.
"Home Sweet Homebrew serves as a Center City homebrewing mecca, with the supplies needed for every step of the process". Read about some local homebrewers.
George and Nancy on KYW News Radio
In December 2011, George Hummel and Nancy Rigberg were interviewed on KYW News Radio on "What's Cooking on 1060: Gifts for Foodies, Latke Contest, Homebrew Beer". Hear the entire interview: go to the What's Cooking on 1060: Gifts For Foodies, Latke Contest, Homebrew Beer page on philadelphia.cbslocal.com. Find George and Nancy's interview photo and below that is a podcast link to Hadas Kuznits' full interview.
George and Nancy Around Town
George Hummel spoke at the Central Library of Philadelphia. He talked about his "The Complete Homebrew Beer Book", and Rich Wagner spoke about his "Philadelphia Beer" book.
George and Nancy were judges in Philadelphia Inquirer's Brew-vitational 2012.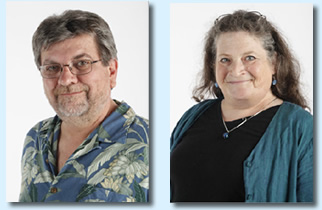 The third annual beer event explored 48 beers from 27 breweries. George Hummel and Nancy Rigberg were 2 of the 8 judges. From the "Food" section of the May 31, 2012 paper, learn more about the contest, Philadelphia's brewing history, meet the judges, and of course, check out the Philadelphia area's beer winners! (Photo credit to David M Warren / Staff Photographer)
2012's Philly Beer Week's Bathtub Beer Fundraising Fest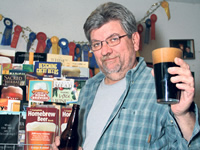 At the National Constitution Center (NCC), George Hummel, Nancy Rigberg, other craft brewers, and the NCC's exhibition curator Daniel Okrent got together for a Prohibition-era event. Learn more from a metro.us article, and the NCC site.
(Photo credit to Paige Ozaroski/Metro)
What's Coming Up?
If you check out Home Sweet Homebrew's site periodically, you'll learn what's hoppening at Home Sweet Homebrew and the Philadelphia beer brewing and wine scene.