We really look forward to seeing you and chatting about what you'd like to brew next. Home Sweet Homebrew is easy to find, and we're happy to help you with directions.



For any day with inclement weather, please call ahead before coming in! 215.569.9469.
Home Sweet Homebrew HOURS



Sunday
Noon - 4 pm
Monday
CLOSED
Tuesday
11 am - 6 pm
Wednesday
11 am - 7 pm

(Free Happy Hour Tastings from 5-7!)

Thursday
11 am - 6 pm
Friday
11 am - 6 pm
Saturday
11 am - 5 pm
Please JOIN OUR MAILING LIST now!

It's powered by MailChimp and neither they nor we will share your email address. Every month or so you'll learn what's hoppening at Home Sweet Homebrew, including special varieties of hops, store hours, Philly beer events, etc.
GETTING WHAT YOU NEED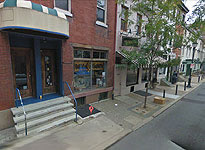 Want supplies or advice but don't have time to visit? No problem!

We can ship homebrew goodies directly to you. Just give us a call at 215.569.9469, or email us.

We can tell you what's just arrived, or give you ideas for your next brew. Some of our beer supply items are available for on-line purchase, and we'll be increasing that soon.

Other Hours by Appointment - we've got keys!
Find out each week's featured event! Call 215.569.9469 or email us.
WEDNESDAYS at HOME SWEET HOMEBREW
Wednesdays are special at Home Sweet Homebrew because . Beer Tasting Nights are held here on, yup - Wednesdays.
THURSDAYS at HOME SWEET HOMEBREW
You can join HOPS meetings (Homebrewers of Philadelphia and Suburbs) on the 3rd THURSDAY of each month. Contact us if you have any questions about these beer events.
GIFT CERTIFICATES: Our gift certificates take the guesswork out of what to give! You can order a gift certificate in popular amounts below, or contact us for a different dollar amount. Click on the "Mail to this Person, not me" link at checkout to have us mail it directly. (NOTE that later in checkout, it'll say the certificate will be mailed to you, but don't worry - we'll send it to the address you specify.)